with my new Irregular Choice boots!!!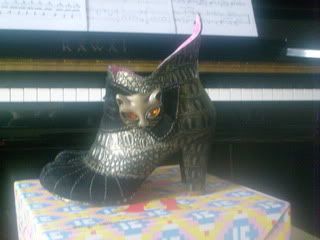 Love to my brothers, Andrew and James, my sister, Sarah and Andrew's girlfriend, Amy, for buying them for me!
I've had a fun filled, extremely busy week, which has been interesting seen as I'm feeling rough. Having said that, I think I'm getting better. Wednesday was the Ann Summers party, which was absolutely hilarious. Thursday, we spent the day in the Solid Rock cafe, which is just too expensive but it was fun! Friday was dinner at the family home, and my wee bro James made a lovely dinner! Last night we went to the Social, TGI Friday's for dinner and then to Citation, which is also too expensive!! So, I'm spending the rest of the month skint, and won't be out on Friday for Tammy's birthday cause there's no way in the world I can afford it.
I have a lovely big pile of new clothes which I am so excited about! :) Still haven't managed to get my new piano music yet cause the shop I used to use has gone so down hill it's not even funny. Hopefully gonna order it all online instead :)
Anyway, I've to be at the Western at 9am tomorrow :( and only for about 2 minutes to have the ECG taken off...why can't I just do it myself and post it back?! lol.
I really have nothing exciting to say...at all.